I'm so excited to announce that I just published the hardcover version of the popular Writer's Planner. It's the same Writer's Planner that you've grown to love over the past two years, including all the goodies you need to keep track of your last novel project as well as your monthly and weekly events, but in a great new hardcover.
I've always loved any book that comes in hardcover and felt inspired to do the same with this planner. It's large enough (334 pages!!) that it easily lays flat without much additional effort. I've always used clips to keep the pages flat for the first few hours in my hardcover planner and that always does the trick.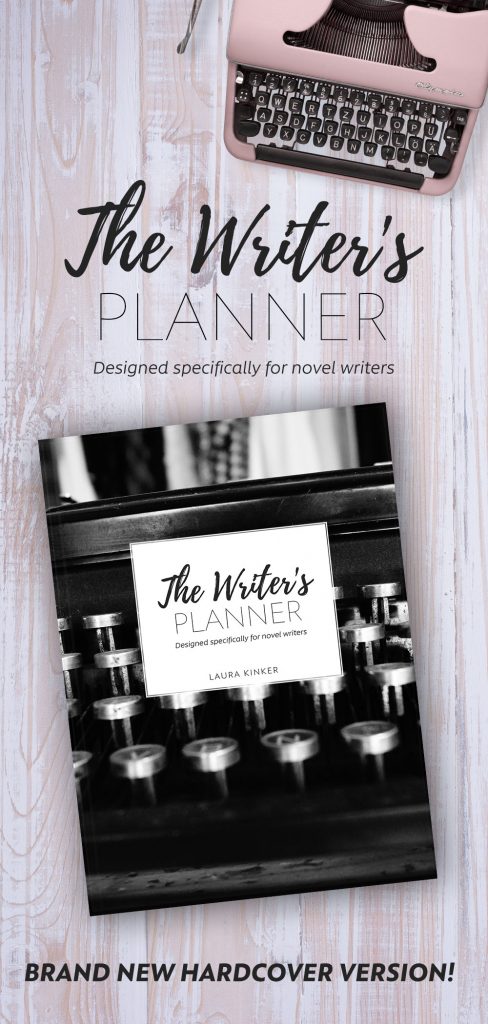 The best features you're going to love:
– It's hardcover!!
– It has Writer's Goals for each month along with Other Goals.
– Submissions Contacts in addition to the Submission Tracker
– lots of Character Development pages
– Monthly Goals page (each month)
– Monthly To Do List page (each month)
– monthly Sleep Tracker
– monthly Mood Tracker
– monthly Habit Tracker. Great for keeping you on track with LOTS of things!
Complete with writing development tools such as writing goals, a submission tracker, character cheat sheets and plot development, this planner will help you keep all your writing thoughts well organized and in one place. This planner also offers a comprehensive monthly and weekly calendar that has space for monthly goal setting, habit tracking and more.
The Writer's Planner is by far one of my bestsellers. It helps you to keep all your writing materials all in one place so nothing gets lost during the year.
You can learn more about the Writer's Planner here.
As a writer myself, I create tools that I need and want to use. If there's anything you would love to see included in any of my planners, I'm open to your feedback. Either comment below or email at laura@laurakinker.com. I'd love to hear from you!
Now that NaNoWriMo is over, the Writer's Planner will help you to keep on track throughout the rest of the year. It includes word trackers for every month, allowing you to set your goals for the month and track how you do. If you're anything like me, having additional incentive always helps me to keep writing.