Are you ready to take charge of your writing life?
The Writer's Planner is designed specifically to help novel writers by providing writing development tools along with a comprehensive monthly/weekly planner.
Complete with writing development tools such as writing goals, a submission tracker, character cheat sheets and plot development, this planner will help you keep all your writing thoughts well organized and in one place. This planner also offers a comprehensive monthly and weekly calendar that has space for monthly goal setting, habit tracking and more.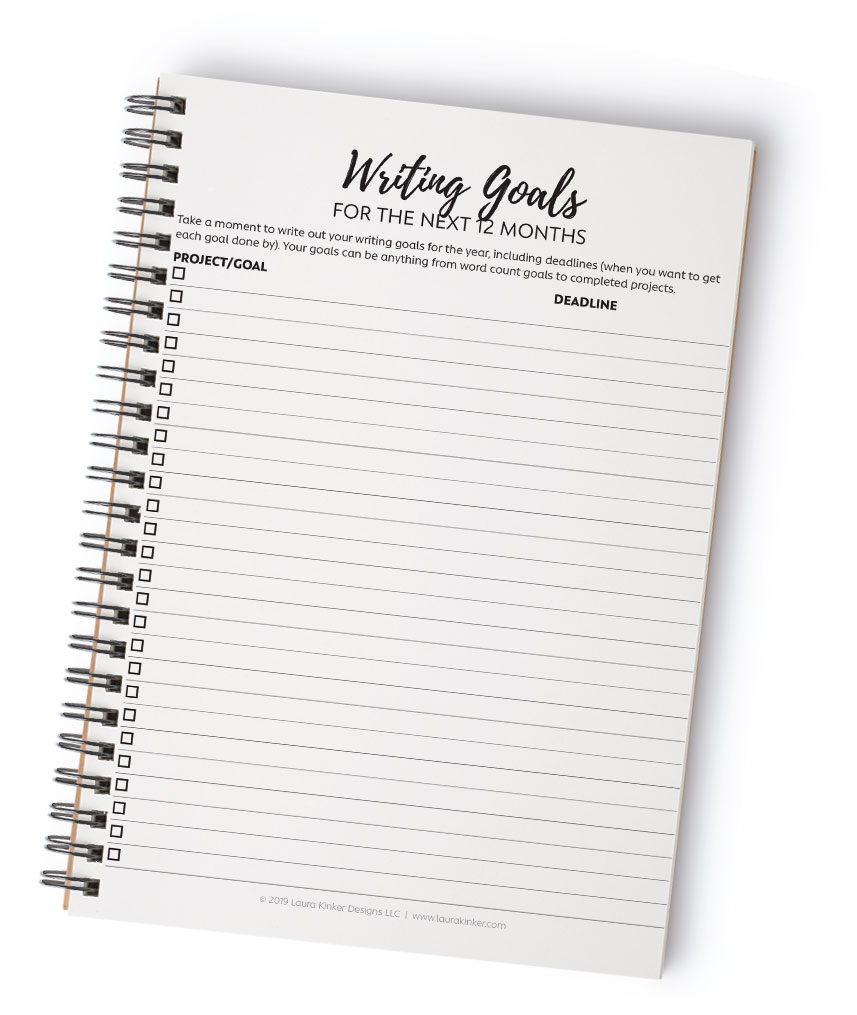 WEEKLY OPTIONS
Choose between two weekly planning layouts to help plan your weeks and keep you moving towards your goals.
The Weekly Open Option
This weekly layout option gives you the most flexibility with your weeks. Use the open daily space to schedule appointments, to list your daily to do list or whatever works best for you. This option also has space for your weekly goals, your weekly to do list (if you're someone who prefers to list things weekly vs. daily), daily gratitude, self care, fun/play, weekly wins and notes.
The Weekly Scheduled Option
This weekly layout option focuses on your daily schedule and your daily to do list. This option is perfect for people with busy daily schedules and for those who like to have their days clearly scheduled out. This option also includes space for a daily word count, your weekly goals, gratitude, inspiration, weekly wins and notes.
COVER OPTIONS
Choose between four unique cover designs to make your planner your own.
The Typewriter Cover
The Typewriter cover will inspire any writer. The classic feel will help you get in the mood to write every time you sit down to plan out your days.
The Golden Swirl Cover
The Golden Swirl cover is lush with color. Get lost in the sea of swirls and let this cover inspire you.
The Pink + Blue Watercolor Cover
The Pink + Blue Watercolor cover denotes creativity as well as tranquility. It's an excellent cover choice for writers.
The Rusty Cover
The Rusty cover has a bit of an urban edge, inspiring writers to go deep with their writing.
All back covers reflect the front cover minus the white box and text.
INSPIRATION
Discover what motivates you to keep on writing and how to incorporate this into your daily schedule.
WRITING GOALS
Identify your writing goals for the year, including deadlines, to help you get clear about what you want to get done this year.
SUBMISSION TRACKERS
Use the comprehensive submission tracker to keep all your submissions to publishers well organized and in one place.
STORY SUMMARY
Write and map out your story summary for easy reference while writing your novel.
CHARACTER DEVELOPMENT
Get clear and specific about your characters with the comprehensive character development sheet that prompts you to dig deep.
THE THREE ACT PLOT STRUCTURE
Map out your story using the three act plot structure utilizing both the mapped out graphic and the three act plot structure sheets.
MONTHLY WORD TRACKING
Track your monthly word count two ways – one with goals and the other as a graph. Tracking your progress increases your likelihood to keep going.
MONTHLY INCOME + EXPENSE
Track your monthly income and expense with ease using our monthly spreadsheets.
MONTHLY GOALS
Use the monthly goal planning sheets to help you focus on specific goals each month and to help start making them a reality.
MONTHLY SLEEP TRACKER
Track your sleep patterns to get a clear visual of your sleep habits.
MONTHLY MOOD TRACKER
Use the mood tracker to keep track of all your various moods throughout the day. Fully customizable, it'll help you get clear about your daily life so you can make improvements.
MONTHLY TO DO LIST
Use the monthly to do list to plan out all the different activities and projects you want to accomplish during the month.
MONTHLY HABIT TRACKER
Use the monthly habit tracker to ensure that you keep working towards your goals each and every day. Use it track things such as exercise, meditation, social media posts, work projects and more.
YEARLY PLANNING
Utilize the This Year's Important Dates at the beginning of the planner as well as the Next Year's To Do List to plan an overview for this year as well as the next.
MONTHLY + WEEKLY CALENDARS
Each month includes a two-page (dateless) monthly calendar along with a two-page (dateless) weekly spread. Choose between the more detailed scheduled weekly layout option or the more open weekly option to customize the planner to your needs.
Join our mailing list.
Never miss out on free printables, new designs, events or promotions again.