There's something magical about wandering around the woods. It allows me to really breathe and slow down. Yesterday I took the afternoon and wandered over to the Miami Woods, part of the Forest Preserves of Cook County. It's only a 20 minute drive from my house but seriously feels worlds away. This trail snakes through Cook Country following the Chicago River. It's also located down the street from my storage unit.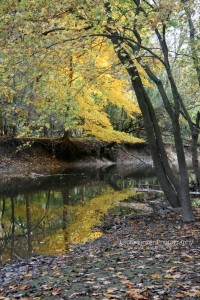 Kurt and I popped over here on Sunday on our way back from the storage unit to walk around and take in the gorgeous fall colors. I returned yesterday with my better camera to capture some of the magic. Fall is my favorite time of year – when the north explodes into amazing golds, reds and yellows.
There's something about being surrounded by nature that lets me slow down and relax. I forget about myself as I take everything in around me. As a photographer it's my nature to want to capture it all but it also allows me to escape myself and my stresses as I give myself over completely to the beauty and serenity.