Description
This planner is designed to help you create your best life by helping you get clear about what you want and designing a realistic plan to get there. The first section includes tools to help you get clear about what you really want while the second section provides opportunity to plan it out.
This calendar includes 12 blank (fill in your own date) monthly calendars and five weekly calendars per month so you can start using this planner at any time.
CLICK HERE FOR A MORE DETAILED PREVIEW OF THIS PLANNER!
To help customize your planner to your liking, you have a couple different options to consider including the weekly layout, the cover design and whether or not you want it printed or as a printable. You will find the cover design options in the product images above and the rest of the variations explained below.
TABLE OF CONTENTS
Welcome – The Instructions
Vision Your Life
Vision Board
Map It Out
Planning
Goals
Motivation
This Year's Important Dates
MONTHLY:
Monthly Notes
Monthly Habit Tracker
Monthly Expense Tracker
Monthly Income Tracker
Monthly Calendar
Weekly Calendar (x5)
Monthly Check In
The Intentionally Blank Page
End of Year Check In
Life Map Notes
Next Year's To Do List
WEEKLY LAYOUT OPTION
Select which weekly layout option you like best – the weekly scheduled option or the weekly open option (as illustrated below).
PRINT + PRINTABLE OPTION
PRINT VERSION: The print version is 8.5″ x 11″ with 250 pages, bright white interior paper, a full color cover and back, and coil bound with a black plastic coil. Please allow about three weeks for delivery since this version is printed on demand.
PRINTABLE VERSION: The print version is 8.5″ x 11″ with 250 pages and available as an instant downloaded PDF. You will be able to open and print it using Adobe Acrobat.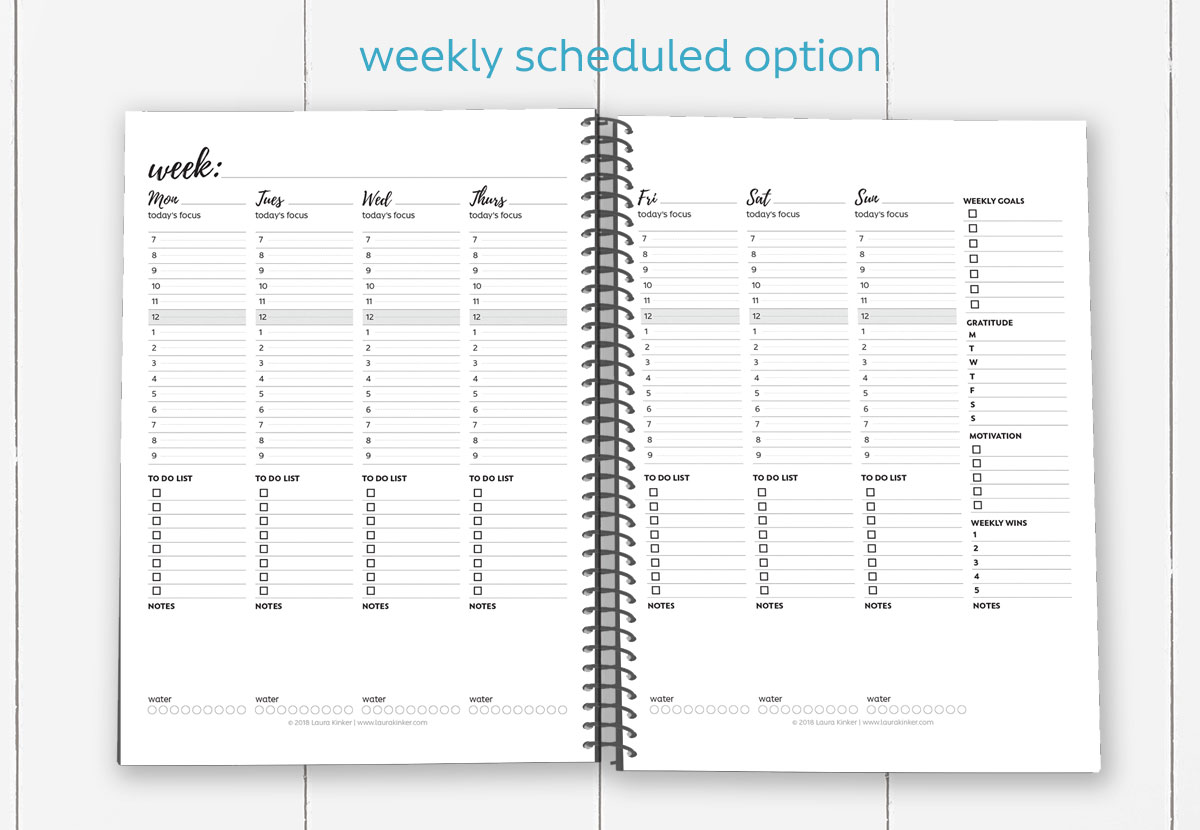 COVER OPTIONS
Select which cover option you want. The back cover will be the same pattern as the front.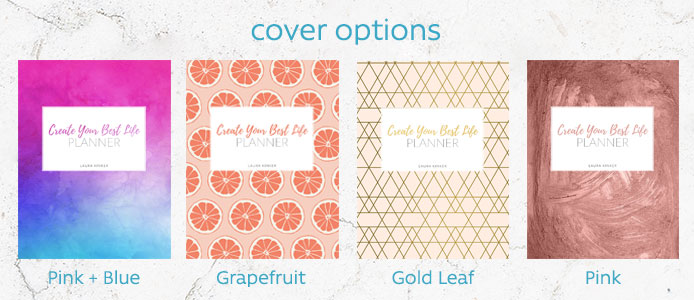 CLICK HERE FOR MORE DETAILED INFORMATION.
THANK YOU + NOTES
Thank you for shopping with me. I welcome all suggestions and feedback.
> If you have any problems or issues, please let me know and I'll do my best to resolve it.
> All printables are for personal use only and cannot be resold or redistributed for any purpose.
> Due to the nature of downloadable files, no refunds will be issued. Please let me know if you're having issues and I will try to resolve it as best as I can.